Home Networks
Push-On-Filters, multimedia
The passive "push-on-filter" enables Do-it-yourself installation of modems without the need for outlet replacement.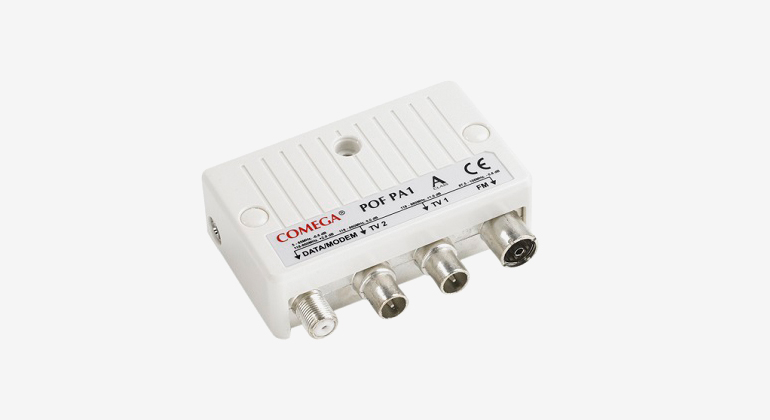 Product description
The passive push-on-filters come in different configurations to meet requirements for various setups for passive filtering of data-TV-Radio in modern CATV home applications.
The product is made in two different versions; the diplexer versions are designed with extremely low return path attenuation; the standard versions, with higher attenuation in the return path, are developed for home applications with room for extra loss in
data transmission.
Suitable for "Do it your self" concept.
Increases installer efficency.
Ideal for return path services.
read more
---
Products
List of available products
Type Number
Item Number
Description
File
Freja POF 1-4
42108 / 42109

Data: 5-65 MHz: 0.5 dB
118-1006 MHz: 4.0 dB
TV: 118-1006 MHz: 4.0 dB
FM: 87.5-108 MHz: 0.6 dB

Download
POF 1-4 S
42133

Data: 5-65 MHz: 0.6 dB
87.5-1006 MHz: 4 dB
TV: 118-1006 MHz: 4.0 dB
FM: 87.5-1006 MHz: 0.6 dB

Download
POF-B 1-4
42131

Data: 5-65 MHz: 0.7 dB
87.5-1006 MHz: 4 dB
TV: 87.5-1006 MHz: 4.0 dB
FM: 87.5-1006 MHz: 0.6 dB

Download
POF 1-10
42101

Data: 5-65 MHz: 0.6 dB
118-1000 MHz: 10 dB
TV: 87.5-1006 MHz: 1.6 dB
FM: 87.5-108 MHz: 0.6 dB

TV POF-D-L
42122

Data: 5-65 MHz: 0.5 dB
118-1006 MHz: 4 dB
TV: 87.5-1006 MHz: 4 dB

Download