FTTB/FTTH networks
JUMA/ Forsete -II FTU/ CPE series
Built upon the strong DKT CPE/gateway product line, this is a new series of Fiber Termination Unit/Wall Outlet that offers operators an easy FTTH Termination.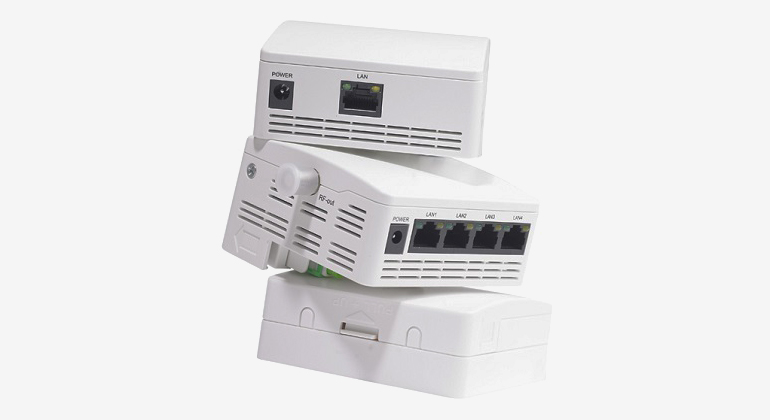 JUMA/ Forsete -II FTU/ CPE series
Considering market trends and developments in fiber rollout to the home, DKT presents JUMA/Forsete, a unique and innovative product line that distinguishes itself ergonomically and functionally from the competition. With its unmistakable minimal form-factor, this solution is highly-suited to dense and structured home network installations. It is a user-friendly concept places the onus for activation and upgradeability with the end-user, thereby minimizing technical support and operator CAPEX.
The solution is built in a way that allows the customer to perform the activation when they receive the necessary equipment. This is analogous to that seen in activation of other technologies such as analogue telephony, ISDN, xDSL, and cable-TV. The combined solution for FTU and CPE is formed in an extremely compact form factor, 88 x 88 x 65 mm, and will be regarded by the customer as an outlet.
The architecture is based a SoC with a 6-port comprehensive gigabit that is capable of manipulating the traffic in any possible way, both adding/stripping vlan tag(s), modifying traffic QoS, rate limitation, Access Control Lists, classification of traffic and much more.
Product features
The series come with 1- or 4-port Gigabit LAN, 100/1000Mbps WAN with auto sense.
CATV RX module as an option.
The FTU / Wall Outlet offers operators an easy FTTH Termination demarcation point in euro connector size.
Operating System is based on standard Linux, which enables operators easily to intregrate their own demands into the management of the device. This eases easy integration into any OSS platform, whether it is based on DHCP/TFTP, TR-069 or proprieatery.
Other types available upon request.
Notice that DKT can supply various cables, adapters, connectors as a combo solution, e.g. RJ-45 cables, Optical patch cords, coax cables etc.
You can read more about our CPE and the two box solution in our brochure here.
read more
---
List of available products
| Type Number | Item Number | Description | File |
| --- | --- | --- | --- |
| FTTH-2F-BASE-PC/APC | 79700 | FTTH Base unit/optical outlet, SC/APC + SC/PC pigtails and adapters | |
| FTTH-2F-ACTIVE-CATV | 79701 | FTTH-node, 2 fiber, SM active part, DATA 1xFX SM Bi-di, 1000 Mbps, 1xRJ45, CATV, External PSU 5V, 2A | |
| FTTH-1F-ACTIVE | 79703 | FTTH-node, 1 fiber, SM active part, DATA 1xFX SM Bi-di, 1000 Mbps, 1xRJ45, External PSU 5V, 2A | |
| FTTH-1F-CATV | 79704 | FTTH-node, 1 fiber, CATV active part, 1x SC/APC, F-connector, External PSU 5V, 2A | |
| FTTH-2F-BASE-APC/APC | 79710 | FTTH Base unit/optical outlet, splice cassette, 2x SC/APC pigtails and adapters | |
| FTTH-2F-BASE-2LC | 79713 | FTTH Base unit/optical outlet, Preinstalled LC/APC patch cords 1.4 m, SC/APC, SC/PC adapters | |
| FTTH-2F-BASE-WDM | 79714 | FTTH Base unit/optical outlet, WDM filter 1310/1490/1550nm, SC/APC, SC/PC adapters | |
| FTTH-0F-BASE-PC/APC | 79715 | FTTH Base unit/optical outlet, splice cassette, SC/APC + SC/PC adapters, no pigtails | |
| FTTH-0F-BASE-PC/APC2 | 79716 | FTTH Base unit/optical outlet, splice cassette, SC/APC + SC/PC adapters | |
| FTTH-0F-SMALL-PC/APC | 79717 | FTTH Base unit/optical outlet, no fiber cassette, SC/APC, SC/PC adapters | |
| FTTH-2F-BASE-PC/APC2 | 79718 | FTTH Base unit/optical outlet, splice cassette, SC/APC, SC/PC pigtails and adapters | |
| FTTH-2F-BASE-PC-NOR | 79719 | FTTH Base unit/optical outlet, splice cassette, 2x SC/PC pigtails and adapters | |
| JUMA-1F-WAN-OAM | 79734 | FTTH 1 fiber SC/PC, JUMA series, 1x 10/100/1000Mbps RJ-45, OAM Support | |
| FTTH-JUMA-1F-WAN-FIB | 79735 | FTTH 1 fiber SC/PC, JUMA series, 1x 10/100/1000Mbps RJ-45, FIBIA CONF, OAM Support Fibia 59598 | |
| FTTH-1F-CATV | 79740 | FTTH 1 fiber SC/APC, CATV-Rx only | |
| FTTH-1F-4P-S | 79741 | FTTH 1 fiber SC/PC, 4x 10/100/1000Mbps RJ-45, SNMP | |
| FTTH-2F-4P-S-C | 79742 | FTTH 2 fiber SC/PC, SC/APC, 4x 10/100/1000Mbps RJ-45, SNMP, CATV | |
| Type Number | Item Number | Description | File |
| --- | --- | --- | --- |
| 797xx | all | 797xx series, Detailed syntax guide | Download |
| 797xx | all | 797xx series, Quick Start User Guide | Download |
| 797xx | all | 797xx series, Device data model for TR-069/181 | Download |
| 797xx | all | Useful syntaxes guide | Download |
| 797xx | all | 797xx series, Product brief | Download |
| 797xx | all | FTU installation guide | Download |