FTTB/FTTH networks
Laser Transmitters
The AIMA3000 simplifies MSO operator's transition to IP Networks by providing a complete range of intelligent, interoperable, RF and optical modules.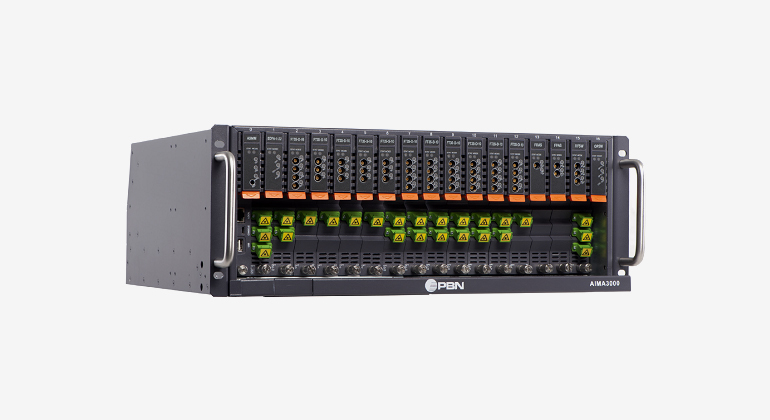 Product description
DKT Modular based AIMA solution
The design employs a 19" rack of 4RU height, with 17 slots (0~16) for high-density application modules and integrated front and rear fibre-access panel for easy fibre management. Slot 0 is used for a System Management Module (ASMM). Slots 1~16 can be used for any of the application modules. This provides capability for a maximum of 32 standard forward-path laser transmitters, or for 64 QAM laser transmitters, or for 64 return-path receivers.
DKT stand alone laser transmitters
DKT offers a legacy suite of 19″ laser transmitters, both DFB and externally modulated models for long distances.
DKT model LT1550 employs a high performance thermally stabilised, DFB, low-chirp, isolated laser to transmit CATV signals. Operating on a specific optical wavelength in the ITU-DWDM grid, the unit suits single mode optical fibre networks with or without dense wavelength division multiplexing (DWDM).
DKT model LTE153-6000 series of transmitters are high performance, 1550nm externally modulated transmitters optimized for single EDFA fiber links in the 80 to 100 kilometer range. The model takes advantage of the LTE153-6000 series advanced fiber dispersion compensation circuitry to provide exceptional CATV performance.
The HEMT series of transmitters provide a cost efficient, transport solution for medium to long distances.
read more
---
PBN AIMA3000 - Ordering information
List of available products
| Type Number | Item Number | Description | File |
| --- | --- | --- | --- |
| LT1550-006-1-33-M-EU | 64155 | Optical transmitter, 8 dBm, 1550nm, 1x230V, 19″, SNMP, 1U | Download |
| LT1550-008-1-33-M-EU | 61158 | Optical transmitter, 9 dBm, 1550nm, 1x230V, 19″, SNMP, 1U | Download |
| LTE153-6000-SA-1013 | 64194 | Ext. modulated laser transmitter 1550nm, 2* 7dBm, 80km, 2x230V, SNMP, 19″, 1U | Download |
| LTE153-6000-SA-1333 | 64198 | Ext. modulated laser transmitter DWDM 1550,92nm, 2* 7dBm, 65km, 2x230V, SNMP, 19″, 1U | Download |
| LTE153-6000-SA-1273 | 64199 | Ext. modulated laser transmitter DWDM 1555,72 nm, 2* 7dBm, 80km, 2x230V, SNMP, 19″, 1U | Download |
| LTE153-3000-207-23-S | 64200 | Ext. modulated laser transmitter 1550nm, 2* 7dBm, 120km, 2x230V, SNMP, 19″, 1U | Download |
| LTE153-3000-207-27-S | 64201 | Ext. modulated laser transmitter 1555,75nm, 2* 7dBm, 120km, 2x230V, SNMP, 19″, 1U | Download |