FTTB/FTTH networks
Coarse Wavelength Division Multiplexer
In fiber-optic communications, wavelength-division multiplexing (WDM) is a technology which multiplexes a number of optical carrier signals onto a single model fibre.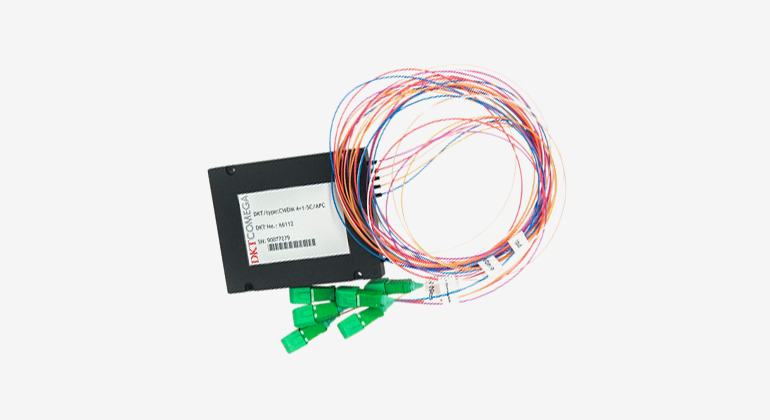 Product description
Advantages of the coarse wavelength division multiplexer:
Low Insertion Loss and High Isolation
Good Wavelength Stability
Optical path epoxy-free with good environment stability
Bell-core 1221 compliant
The multiplexer module combines several wavelengths (channels) traveling in each separate single mode fibre into one single mode fibre, and the same module separates each specific wavelengths traveling in the common single mode fibre into wavelength, each traveling in a separate singlemode fibres.
The CWDM Modules are based on thin-film filter technology. This proven technology offers wide channel bandwidth, flexible channel configuration, low insertion loss and high isolation.
SC/APC is used as standard. Other connector types on request.
read more
---
Products
List of available products
| Type Number | Item Number | Description | File |
| --- | --- | --- | --- |
| DKT WDM-45-28-SC/APC | 66086 | Wavelength Division Multiplex 1310/1550nm | |
| DKT CWDM 4+1-SC/APC | 66112 | CWDM 4+1, Stand alone, SC/APC, 20nm spacing, 1310/1510/1530/1550/1570nm | |
| DKT CWDM 8+1-SC/APC | 66116 | CWDM 8+1, Stand alone, SC/APC, 20nm spacing, 1310/1470/1490/1510-30-50-70-90/1610 | |
| DKT CWDM 8+1-E2/APC | 66117 | CWDM 8+1, Stand alone, E2/APC, 20nm spacing, 1310/1470/1490/1510-30-50-70-90/1610 | |