FTTB/FTTH networks
Single mode splitters and couplers
In network applications, splitters/couplers are very often used to either divide or combine signals from different locations in the optical network.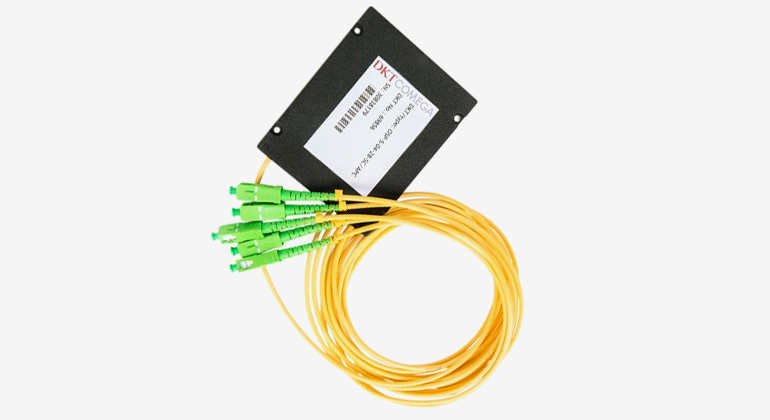 Product description
DKT offers a full suite of optical splitters and couplers.
The product familiy offers a flexbile choice of split in % and N-way.
SC/APC is used as standard. Other connector types on request.
Advantages:
High stability
Low insertion loss
High quality connectors
High network uptime
Option for 19" 1HU
read more
---
Products
List of available products
| Type Number | Item Number | Description | File |
| --- | --- | --- | --- |
| OSP-S-5050-SC/APC | 69802 | Optical 2-way splitter, symmetric 50/50, Stand Alone | |
| OSP-S-5545-SC/APC | 69806 | Optical 2-way splitter, asymmetric 55/45, Stand-Alone | |
| OSP-S-6040-SC/APC | 69811 | Optical 2-way splitter, asymmetric 60/40, Stand-Alone | |
| OSP-S-6535-SC/APC | 69816 | Optical 2-way splitter, asymmetric 63/35, Stand-Alone | |
| OSP-S-7030-SC/APC | 69821 | Optical 2-way splitter, asymmetric 70/30, Stand-Alone | |
| OSP-S-7525-SC/APC | 69826 | Optical 2-way splitter, asymmetric 75/25, Stand-Alone | |
| OSP-S-8020-SC/APC | 69831 | Optical 2-way splitter, asymmetric 80/20, Stand-Alone | |
| OSP-S-8515-SC/APC | 69836 | Optical 2-way splitter, asymmetric 85/15, Stand-Alone | |
| OSP-S-9010-SC/APC | 69841 | Optical 2-way splitter, asymmetric 90/10, Stand-Alone | |
| OSP-S-9505-SC/APC | 69846 | Optical 2-way splitter, asymmetric 95/05, Stand-Alone | |
Products
List of available products
| Type Number | Item Number | Description | File |
| --- | --- | --- | --- |
| OSP-S-03-28-SC/APC | 69851 | Optical 3-way splitter, Stand-Alone | |
| OSP-S-04-28-SC/APC | 69856 | Optical 4-way splitter, Stand-Alone | |
| OSP-S-05-28-SC/APC | 69861 | Optical 5-way splitter, Stand-Alone | |
| OSP-S-06-28-SC/APC | 69866 | Optical 6-way splitter, Stand-Alone | |
| OSP-S-07-28-SC/APC | 69881 | Optical 7-way splitter, Stand-Alone | |
| OSP-S-08-28-SC/APC | 69886 | Optical 8-way splitter, Stand-Alone | |
| OSP-S-12-28-SC/APC | 69804 | Optical 12-way splitter, Stand-Alone | |
| OSP-S-14-28-SC/APC | 69300 | Optical 14-way splitter, Stand-Alone | |
| OSP-S-16-28-SC/APC | 69891 | Optical 12-way splitter, Stand-Alone | |
| OSP-S-32-28-SC/APC | 69896 | Optical 32-way splitter, Stand-Alone | |