IMPROVING MER LEVEL BY > 2 DB; REDUCING OPEX > 60%, PROVEN!
20. June 2018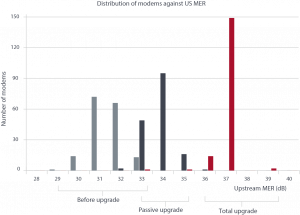 An upgrade project showed that a "passive upgrade" to DKT Signia Line passives improves the average MER by an astonishing 2.5 dB. Each existing tap and splitter was exchanged with the exact same type without project calculation. In a second step the network was properly planned for DOCSIS 3.1 operation, and all passives and amplifiers were exchanged in the "total upgrade" to achieve an additional 3 dB improvement of the average MER.
WITH THE SIGNIA LINE PASSIVES THE OPEX IS REDUCED BY > 60%
How? The connection between the cable and the passive is secure and stable; no spurious noise is generated in the interface because:
The Signia Line brass connectors prevent self-loosening of the connection; the connector does not cold-flow under stress and temperature variations.
The Signia Line nickel-tin plated connectors prevent corrosion; no CPD noise is generated.
> 60% improvement in service/support.
Read more in our 2018 COAXIAL NETWORK BROCHURE